All images on this site are copyrighted and cannot be used without permission of the photographers. Restrictions include social media, photo sharing, and Pinterest.
Meeting information
Other events
Next Meeting
Wednesday June 23 - In honor of the 20th anniversary of the Sharp Shooters Camera Club we will have a picnic instead of our usual Zoom meeting. We will meet at the picnic area at the LDS Church at 340 N 6th Street in Montpelier at 6:30. Everyone will be asked to bring a sandwich or something for themselves and one dish to share with the group. Since we can't meet inside, we will not show assignment photos, and will have two assignments in July. Hopefully, this event will bring out some of the people who have not joined our Zoom meetings and will start to transition back to meeting in person in the near future.
Where and When?
Usually, the basement board room at Bear Lake Memorial Hospital, 164 S. 5th St., Montpelier, Idaho, at 7 PM on the 4th Wednesday of the month.
Need more information?
Call Ross or Linda Walker at 208-847-2075 or email: idbearlakers@msn.com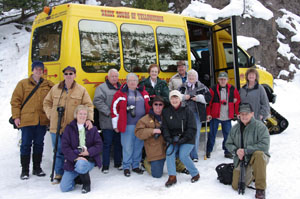 Rotating Displays
Arctic Circle - Montpelier
Bear Lake Drug - Montpelier
Permanent Group Display
Super 8 Motel - Montpelier
Field Trips
Contact Ross, Linda, or Sherri if you want to set up a field trip.
Other Announcements
We are looking for volunteers to display photos at Arctic Circle and Bear Lake Drug. Contact Sherri Bunn at 208-399-2141 if you are interested.
None scheduled. Saturday, May 8, nine photographers and four guests went to Fall Creek Falls, Wyoming.
Contact Christine Lake if you want to remain on the club email list.
Apr and May - Lorelei Hamon
Due to the COVID-19 pandemic, access to our hospital meeting room has been denied, and we need to isolate anyway. So, meetings will be online via ZOOM.
June and July - Dave and Lynette Bower
June and July - Don Searle
Friends United for Bear Lake invited the club to display up to 3 prints per person from 6 - 8 PM June 12 in Paris at the Thomas Nye home, 52 East 1st South, Summer Heritage event. They should have a Bear Lake Valley subject and are limited to 3 per person. Details have been emailed to club members.