All images on this site are copyrighted and cannot be used without permission of the photographers. Restrictions include social media, photo sharing, and Pinterest.
Meeting information
Other events
Next Meeting
Wednesday July 22 - We will have our fourth online Zoom meeting. Invitations with a link will be sent to everyone on our club email list. Click on the link to join the meeting. We will review photos from the "birds" assignment and Ben Lake will teach a lesson on how to stack photos, a technique he uses to combine images for star trails. Email two photos for the assignment to Christine Lake no later than Tuesday, July 21st at 5 PM. clake@idahova.org
Where and When?
Usually, the basement board room at Bear Lake Memorial Hospital, 164 S. 5th St., Montpelier, Idaho, at 7 PM on the 4th Wednesday of the month.
Need more information?
Call Ross or Linda Walker at 208-847-2075 or email: idbearlakers@msn.com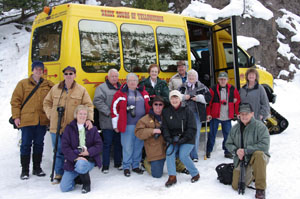 Rotating Displays
Arctic Circle - Montpelier
June and July - Dean and Christine Lake
Bear Lake Drug - Montpelier
June and July - Chance and Rich Kearl
Permanent Group Display
Super 8 Motel - Montpelier
Field Trips
Contact Ross, Linda, or Sherri if you want to set up a field trip.
Other Announcements
As of 2019 meetings will be held on a more flexible schedule, only on months when a program has been prepared. We are looking for someone to help arrange for meetings.
We are looking for volunteers to display photos at Arctic Circle and Bear Lake Drug. Contact Sherri Bunn at 208-399-2141 if you are interested.
June 20, 2020 - Ben Wishnek led a tour of the wildlife refuge. Seven people attended.
Contact Christine Lake if you want to remain on the club email list.
The list of new assignments is available on this website.