CONTACT INFORMATION

Ross and Linda Walker
502 Boise St.
Montpelier, ID 83254
phone 208 847 2075
To order copies of photos please click on the order form button below, print the form, fill it out, and mail it to us with your personal check. If you prefer, you can call us or e-mail your request, but we will wait until your check is received before processing your order. Thank you.

ORDER FORM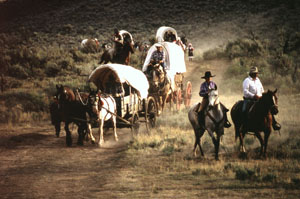 Wagon train, Banks Valley, Idaho
PRICE LIST
Sorry, but we do not accept credit cards at this time. This is a hobby, and we do not actively try to sell our photos, but will be pleased if you like one enough to order it.
Print Sizes:
5 x 7 $15.00
8 x 10 to 8 x 12 $30.00
11 x 14 to 11 x 17 $40.00

Finishes available are Lustre and Glossy.
Specialty surfaces, such as canvas, are available at extra cost.

Prices are for unmatted, unframed prints.
Price includes shipping and handling to addresses in the United States.
Please call us to discuss other services,
such as larger sizes, and framing.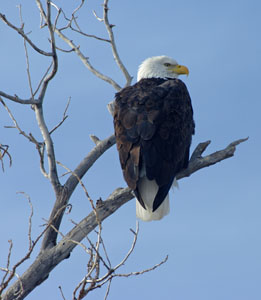 Notecards are available for $4.00 each, minimum quantity 10. Cards are 5 x 7, blank inside. Choose one photo or a variety.
Notecards are also available in Montpelier, Idaho at Bear Lake Drug and the National Oregon - California Trail Center.
Photos are available for web site use for $25 per photo with the fifth photo free. This is for non-exclusive use for an unlimited time. Photo credit is required. Usage on an additional web site requires payment of an additional fee. Non-exclusive rights means His And Hers Photography retains the right to sell the photo for additional use.
Photos are available for exclusive web site use for $100 for up to five years.
Discounts may be given to local merchants for web site use.
Bald eagle, Laketown, Utah
All images are copyrighted and cannot be used for any purpose without permission of the photographers. Restrictions include social media, photo sharing web sites, and Pinterest.